Sacramento County
CIVITAS joins the effort to register voters - way to go!
CIVITAS, a Sacramento group encouraging youth engagement, invites you to register to vote: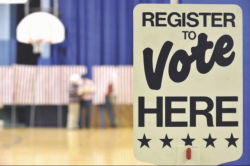 Online voter registration drive the week of September 21-25!
To pre-register to vote you must be 16 or older.  Go to: https://registertovote.ca.gov 
While you are at it they invite you to follow them on: Instagram @futurevoters_rahs"
September 22nd (the 4th Tuesday) is Voter Registration Day
Are you eligible to vote? Are you registered to vote? Do you need to register to vote? You can get answers to most of your question on the Sacramento County Registrar's website.
Check here to see whether you are currently registered in California. If you want or need to change any information in your voter registration record, e.g., moved to a new address, changed your name, want to change party preference, you must reregister. If you want to register or reregister to vote, and you're eligible to vote, you can register online. It's easy! Want to see how? Check out our YouTube channel for "How to Register!"
If you need help registering, the League of Women Voters can help.  Please contact us by phone at ‭(916) 447-8683‬ or by voterservices [at] lwvsacramento.org (email).
Check
Voter's Edge
for ballot information.
Voter's Edge has information for your address!  Local information on each candidate, all of the statewide propositions, as well as, local ballot measures.
League of Women Voters of California publishes....
...postions based on prior agreed-upon League research, discussion and votes of League members throughout California and the United States. Read the details and see the selections: 
PROP 14 Stem Cell Research ----------LWVC is NEUTRAL

PROP 15 Schools and communities ----------LWVC Vote YES
PROP 16 Opportunity for all  -----------LWVC Vote YES
Affirmative action in state hiring, contracting, and education.
PROP 17 Restore Voting Rights ----------LWVC vote YES
Restoring voting rights to Californians who have completed their prison term.
PROP 18 Voting Rights for 17-Year Olds  ----------LWVC vote YES
Seventeen-year-olds who will be 18 by the next general election should be able to vote in primary and special elections. 
PROP 19 Property Tax Breaks ----------LWVC vote NO
Senior citizens are already allowed to keep their current tax assessment when they purchase a home of equal or lesser value.
PROP 20 Rollback on Criminal Justice Reforms ----------LWVC vote NO
Prop 20 would roll back many advances in criminal justice reforms and reinstate a "get tough" law enforcement system that believes longer incarceration is a solution to crime. 
PROP 21 Local Governments & Rent Control  -----------LWVC is NEUTRAL
PROP 22 Rideshare and Delivery Drivers -----------LWVC takes NO POSITION
PROP 23 Kidney Dialysis Clinics -----------LWVC is NEUTRAL 
PROP 24 Consumer Data Privacy -----------LWVC vote NO
Among the troubling aspects of Prop 24 is its expansion of "pay for privacy" through the addition of loyalty and rewards programs, allowing businesses to charge consumers more or provide worse service if they choose to exercise their privacy rights. It also weakens the current legal requirement that companies respect a global opt-out for all services.
PROP 25 End Cash Money Bail ————————————LWVC vote YES
A "yes"vote on Prop 25 is a vote to replace the money bail system with the use of pretrial risk assessment tools that focus on safety and flight risk. 
94.5% of CA households counted - let's go for 100%
Over 90% of Households Have Been Counted

The U.S. Census Bureau has begun to release daily 2020 Census housing unit completion rates, including the 2020 Census self-response rate and Nonresponse Followup completion rate. 91.8% of housing units have been accounted for in the 2020 Census as of today, with 26% counted by census takers and other field data collection operations, and 65.8% of housing units responding online, by phone, or by mail.
Hot off of the presses.....
The September newsletter for the Sacramento League!   Join us to make elections accessible and voters informed.
Also, the California League announces the availability of the Easy Voter Guide - time to get an overview of all of the ballot propositons?
 Elections?  All you need to know for click'n is here!
Elections in Sacramento County are led by the Registrar's Office and they have an AMAZING web site.  Easy to read and lots of clicks to find everything you need to know.
And, if you want to be a poll worker, the Registrar's Office welcomes your application!
For that matter, this is a pretty AMAZING web site, as well, for information on Voter Registration, the Ballot, Voter Guides and community candidate and issues forums!  Want to get a jump on the ballot propositions?  Check this out to read the ballot propositions.  Yep, and there is more on Voter's Edge where you can look up ALL of the ballot information for your own address.
TIME TO GET CLICK'N - IT IS EASY AND FUN!
Elections?  All you need to know by watching! 
Help NorCal communities get the representation and resources we need! Take the #2020Census, a confidential, 9-question survey of everyone who lives in the U.S., regardless of immigration status or background. It's a step toward equity and justice for our communities!

Visit www.my2020census.gov TODAY and avoid getting contacted by a Census taker later. #NorCalCensus

Spanish:
Toma el Censo ahora! 9 preguntas simples y confidenciales. Tu información es segura y no hay pregunta de la ciudadanía. ¡Un paso adelante para la equidad y justiciar!

Toma el Censo por internet a www.my2020census.gov, por teléfono al 844-468-2020 o por correo postal.
Scholarship Applications OPEN
Each year the League of Women Voters of Sacramento County awards a $2,000 Anne Rudin Scholarship to a currently enrolled female student at a local college or university who has advanced to upper division or graduate level studies.  More information with applications DUE SEPTEMBER 30, 2020.  Join the League to assit students!
STRONG MAYOR PROPOSAL RISES AGAIN....
The League of Women Voters of Sacramento County submitted a letter by email to the Sacramento City Council expressing our opposition to the Strong-Mayor ballot proposal.  Similar  proposals have already been rejected several times by the voters.  While the League does support a salaried mayor postion and a vote for the Mayor on Council issues, we do not support the Mayor having more voting power than other Council member since he or she already has the "bully pulpit."  Our opposition to the Strong-Mayor form of city governance is based on a study the League completed in 2009. You can send an email to your councilmember expressing your position. AND,  join the League to stay on top of the current issues.